Bike Workshop/Mobile Repairs
OrangeFox Bikes has a fully equipped static and mobile bike repair workshop with many specialised tools including the hardware and software to update Shimano Di2 electronic gear shifting.
We are suspension experts and proud to be a Fox Approved Service Station and fully tooled to work on all makes and types of suspension and seatposts including RockShox Reverbs.
Specialist tools and spares to fully service bicycles equipped with Italian Campagnolo Groupsets, a rarity in the North of Scotland.
No job too small or large from fixing a puncture to complete custom bike builds.
As a Suspension specialist (all makes) and Fox Approved Service Station we also have specialist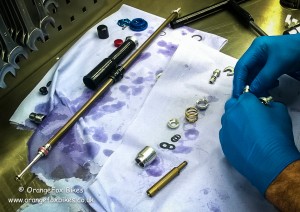 tools, fluids and most importantly the knowledge to give your expensive components the very best overhaul possible and you the sweetest ride.  We pride ourselves on the custom suspension tunes to suit both you and the terrain you ride.  Whether coil or air spring we will endeavour to set up just how you like it.
We keep an extensive stock of spares, components, tyres and accessories in order to maximise your cycling enjoyment and anything not in stock can be supplied with one or two days.
We also fix and service unicycles working closely with unicycle.com (UK) in order to provide the very best in spares and accessories.
Customer care is our utmost priority and we appreciate taking and collecting your bike can be difficult to schedule around a hectic lifestyle, particularly when all you
want to do is ride it! We offer a mobile bike repair service across the Highlands and for anything requiring a well equipped workshop a pick-up and drop-off facility.
All work is priced individually so you can be assured you will not over pay and still get the professional service you deserve.